In the digital world, print marketing may be considered mundane and a bit out of place but no one can deny the look, feel and customization that has always been a pro fact for the print industry. Whether you own a small business or a large multi-tier organization, the best and budget-friendly way to create brand awareness and win potential customers/clients is executed best via print medium. 
All that said, even the best printing companies in Dubai have been digitized which opened unlimited possibilities and options to be super creative and flexible. Flyers, stickers, posters, roll-up banners, screen printing, business cards and so much more, let's have a look at the options to market your business via custom print.
Stickers
People might be sceptic about stickers as a marketing medium but let's not underestimate its potential as we've seen how stickers can get politicians elected and do so many wonderful things. With just the right design, message and a bit of creative-edge, you can turn clients into your loyal advocates, raise brand awareness, easily distribute them or even share electronic/digital versions of the stickers for print out. 
Users feel more appreciated on receiving something that has been customized especially for them. Stickers can thus be displayed on the cars, laptops, workstations, toolboxes and wherever necessary.
Flyers
Flyer printing in Dubai has always been the first choice when it comes to promoting anything via print medium. They're simple, creative and can easily generate a lot of ROI for your business; depending on the print strategy. All you need to worry about is the brand-specific message and design; once that's done, you need to work out the best and most suitable distribution strategy. Do note that flyers aren't just to market sales, deals and something entirely promotional but they're also effective in promoting your business and create brand awareness.
Bulk Posters
Both, posters and flyers complement each other in almost every way except that posters are a bit larger and wider in size. When printed in bulk for serious marketing campaigns and wider distribution, the entire process is coined as bulk posters that are super cool for your business in both aesthetics, communication and budget. Bulk posters can be designed using various graphic and print software as well as relevant hardware which further raises the demand for graphic designer jobs.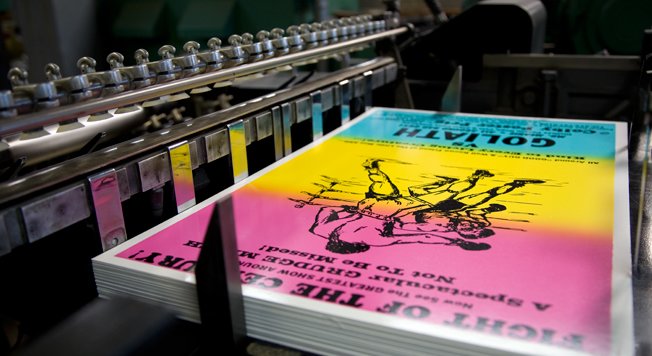 Posters are big enough to communicate the message in an effective and efficient way whereas these are mostly used to invite people for big events, seminars, expos and so on. Many companies design creative posters to transform their workplace into a more creative, connected and valuable hub thus keeping everyone engaged and together all the time.
Business Cards
Old but definitely not obsolete; in-fact, business card printing in Dubai evolved significantly from the usual rectangular paper to many different creative shapes, custom prints and even a barcode that, on scanning via mobile or digital device can further take customers either to the business official website, its products, special features and more. 
All that said, business cards are quite budget-friendly and convenient to carry anywhere, anytime. An employer can make every other employee feel more valuable and a brand ambassador simply with business card printing and distribution which is mostly done by handing them over personally.
Calendars
Other than just circling the dates and as a reminder of special events, a custom-printed calendar is another way to create brand awareness. With a sweet and attractive design, the right colour choice and sharp, high-quality photographs complement the days and dates, it makes calendar one of the most effective and customized marketing means. You can take your calendar printing to a whole new level by arranging a crowdsourcing content where participants are requested to submit their artwork and photography with the best ones included in the calendar.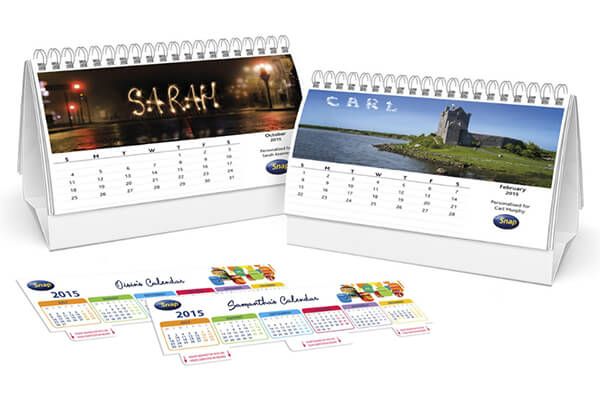 Brochures
Like flyers and posters, brochure is another preferred marketing means that come in many different shapes and sizes. Some of the most effective brochures include creative design and imagery that communicates the message via visual means, rather than heavy chunks of text. However, it depends on clients, customers and businesses to decide on the type and content to be included in the brochure. Though digital versions are also available, printed brochures actually make customers feel more valued for they've something physical to hold onto.
Also Read: How to Create a Successful Print Design: Step-by-Step Guide 2021
Bookmarks
Simple, effective, creative and in-budget; bookmarks are an amazing marketing tool being functional and something customers wouldn't just tear apart or throw away. They are either kept safely in the drawers or placed in between the books so that potential customers/users are always exposed to your business and core message. Bookmarks can be complemented further with stickers, small booklets and brochures whereas these can be distributed at various events or mail.
Catalogues
More like a user-guide and/or instructional manual, catalogues include all the essential details and core values of a particular product or service being provided by your brand or business. Although catalogues are usually handed over to potential customers on purchasing a product or service, you can go an extra mile in creativity and hand them over to your clients and customers.
Print technology and industry has experienced serious digital transformation during the last few years, offering unlimited possibilities and creative options to wow customers at every step. The above, however, are some of the most effective print marketing options to go along with.